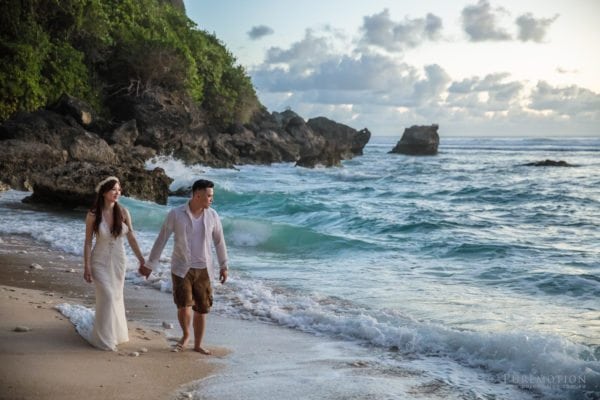 Puremotion is a multi-award winning team of photographers and cinematographers specialising in creative storytelling, available to craft your personalised wedding video Brisbane wide or internationally across the globe. Whether your dream is to get married in your favourite part of town or in a breathtaking exotic destination far away, we will be by your side to bring that dream to life in the most memorable of ways.
We are a boutique studio based in Brisbane that limits the number of wedding bookings we take on every year, allowing us to confidently devote the necessary skills and attention to detail to every individual job we accept. It's because of this high standard that we are able to pride ourselves on always delivering the finest finished product to each and every one of our customers.
Our passionate and talented Brisbane wedding videographer isn't about setting you up in poses or creating photogenic situations – our style is to capture the authentic happiness; the real expressions on your faces, the beautiful relationships and the stories as they unfold over your special day. We want you to look back at your wedding video in years to come and be transported back to those exact moments that shaped the unforgettable day where you made some of the most important promises of your life.
At Puremotion, we are very much committed to creating an overall 'experience' for our valued clients, and one way we do this well is by combining breathtaking cinematic vision with your collection of still images that were captured on your wedding day. Our wedding video Brisbane wide, and further afield will tell your story, irregardless of where your story has taken you.
Allow us to help you tell your story in the most timeless, authentic and beautiful way.
---
What Types of Wedding Video is Best For You?
We offer a wide range of cinematic packages, all of which are completely customisable to suit your specific needs and budgetary requirements. Please get in touch with us to discuss your vision for your big day and to find out how we can help you bring it to life.
Highlight Reel (Music Video)
This service is all about us capturing an emotive, 5-7 minute "bite-sized" film that has been carefully crafted in such a way that will not only show how unique you are as a couple, but also remind you of what an exciting life you are about to embark upon together as you take the next step in your journey.
Documentary Style (Long edit)
Puremotion's documentary style wedding films capture the events of the day as they happened, in the order in which they happened. We avoid editing too much out of a documentary wedding film, as we want your viewers to feel as if they were actually there, hearing, seeing and experiencing the day exactly as it unfolded.
Same Day Edit
The word 'experience' is exactly what you are going to get. This film is treated in a very similar respect as the cinematic highlight reel – only this time, the film is shot, edited and shown on the same day during your reception dinner, where you will watch it together with your friends and family at this very significant time of your wedding day.
Rhi & Ashley are an incredible, unique couple, who know how to express their love in their own way, and their beautiful wedding was the perfect celebration of that. From Ash's garage to a swing in the trees, the day was a reflection of the contrasts of their lives […]
At Puremotion we film wedding videos in Sunshine Coast by our professional wedding videographers to capture your special memories with loved ones. The wedding cinematography is a perfect approach to convey all the loving moments of couples as the big day comes. […]
The Most Important Destination Wedding Secrets Every Bride MUST Know! Destination weddings combine the ease of a personal planner with the exotic location of a honeymoon. Every detail can be handled for you from beginning to end so you can just enjoy the experience. […]
Engagement / Pre-Wedding Film
One service that is growing in popularity is our 'love story' short film that summarises and captures the unique personalities and personal journeys of our couples, from the early stages of their relationship. Whether it's documenting your story in a fun, light-hearted way or capturing the courtship, engagement, 'save the date' or 'pre-wedding' – we can create something unique and special that can be shared on social media or kept on film forever.
Portrait Film
With an emphasis on spectacular imagery using emotive lighting and filming techniques that highlight and extract the subjects' innermost connections with one another, our portrait film will tell your unique story in a timeless, thought-provoking and emotional way.
Wedding Cinematography Brisbane Couples Cherish
Our Director of Photography, Alex Huang, has been carefully crafting visual stories through wedding cinematography and photography for more than a decade. He has been recognised the world over as the pre-eminent Brisbane wedding videographer and photographer, and has won multiple awards for wedding cinematography and filmmaking from the distinguished Wedding & Portrait Photography International (WPPI).
Alex and the team at Puremotion Studio are a passionate and creative group who use their profound industry experience, talent and expertise to bring to life your vision for your special day.
With a passion for cinematic film and the narratives that can be told through it, we strive to create these unique visions for each of our clients through exquisite wedding video Brisbane wide and throughout the world. Our focus and commitment to you is to tell a story that epitomises your personal journey through life together, providing a breathtaking cinematic experience like no other.
Personal, emotional, beautiful and authentic.